Top-Quality Services For Upholstery Cleaning Melbourne
Upholstery is that thing by which most of the homeowners enhance their home decor. Upholstery makes the home appearance better and makes it a better place for relaxing. If you keep upholstery without cleaning it, it means you are inviting the germs or bacteria in your home. And, you will not let the germs harm you. To keep your upholstery safe, you should get your upholstery cleaned by experts at least once or twice a year. To get Upholstery Cleaning Services in your budget, contact our company- Upholstery Cleaning Melbourne.
At this honourable cleaning company, we offer quality Quality Upholstery Cleaning Services at the cheapest prices. We know how to treat different types of upholstery with unique cleaning procedures. Our professionals are certified and also we serve clients 24/7 hours in all areas of Melbourne. To get your booking our services for Upholstery Cleaning Melbourne, call us on 03 8737 9474.
Why Should You Get Upholstery Cleaned Timely?
As we know cleaning is very important to maintain the hygiene level. Being a liable homeowner, you should keep home items clean and fresh, whether it is carpet or it is upholstery in your home. If you are not considering the cleaning of your upholstery items, you may lose their beautiful appearance. A dirty upholstery item can degrade the whole look of your room. On the other side, a cleaned and fresh upholstery improves the air quality as well as it also makes upholstery last longer. So, if you are delaying to get the services of Upholstery Cleaning, call us now. Our professionals will provide you with top-notch Upholstery Cleaning Services at the lowest price.
Our Best Upholstery Cleaning Services In Melbourne
Sometimes, people are confused about cleaning types because they don't have any idea which type of service will be beneficial for their upholstery. But don't make it a big issue, have a look into given below services which are written with brief information. Knowing about our services, you can easily choose service according to your upholstery requirement.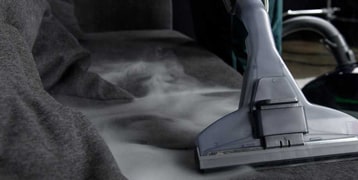 Upholstery steam cleaning is very convenient when you want to get your upholstery deep cleaned by professionals. By steam cleaning, our experts can make your upholstery fine and germ-free. In the steam cleaning process, our professionals prefer to use steam or lukewarm water and also some powerful cleaning tools. You can book our Upholstery Steam Cleaning Service at any time if you also want to get deep cleaned your upholstery items.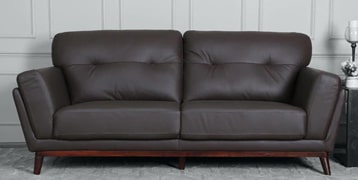 Leather couches are required to get special cleaning or treatment. Having a leather couch at home is very artistic but cleaning is also your priority. To clean the leather couch, we use non-toxic cleaning chemicals and effective cleaning products so that we can provide you with the desired result through professional services. So, book us now our services for Leather Couch Cleaning.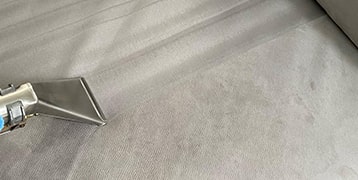 Dry cleaning is one of the best services that we provide with professionalism. To dry clean the upholstery, we utilize dry cleaners with less water. The dry cleaning process is effective and sufficient to give an instant or desired result to the customers. Our customers are acquired with our cleaning techniques. If you also want to experience our Upholstery Dry Cleaning Service at your place, call us now on 03 8737 9474.
Sanitisation of an upholstery item is not a long process but naive people can not perform it at home with fewer tools. To deeply sanitise the upholstery, you should get professional help. And, our professional cleaners are always available to provide Upholstery Sanitization Services at customer place. We remove all dust particles from the upholstery by applying the best treatment. Our treatment is fully tested in improving the upholstery appearance.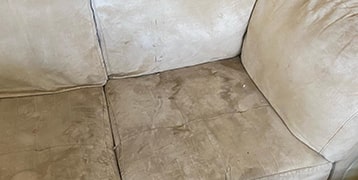 Mould on upholstery can cause an infection like Aspergillosis. So, it is very essential to keep the upholstery mould-free or germ-free. If you are dealing with mouldy upholstery in your home, contact us immediately. We will clean mould or mildew and make your upholstery cleaned. So, book our service for Upholstery Mould Removal anywhere in Melbourne.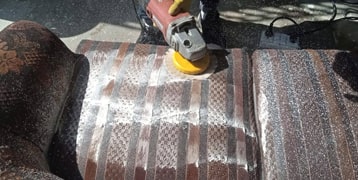 Upholstery Deodorisation treatment can make the upholstery smelling fresh by removing bad odours. To get this service, you can call us at any time. We will come to your place with our useful tools to provide you Best and Effective Upholstery Deodorisation Services.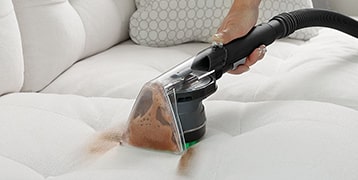 We also give stain removal services to make the upholstery items stain-free. We use effective stain removal products which are safe and able to remove stubborn stains from the upholstery fabric. Our professionals have skills and effective equipment to provide desired results for treating stains. So, call us now to book our Professional Couch Stain Treatment.
Upholstery Cleaning Services
Our professionals are well-equipped to provide services with expert techniques. We provide our Upholstery Cleaning Services in both commercial or residential areas.
Our Quick Process For Upholstery Cleaning
Our process is verified and prominently performed by experienced and talented Upholstery Cleaners. Here is brief information about our services for Upholstery Cleaning Melbourne.
Pre-inspection
Our first step is an inspection and we do it with cleaning tested tools. By inspecting the upholstery, we determine how to clean upholstery in the right way.
Vacuuming
We vacuum the upholstery to remove hard trash from the upholstery fabric. Vacuuming will be useful in keeping the couch and other upholstery items clean and dust-free.
Stain Removal
Before cleaning the upholstery, we do stain removal to make the upholstery stain-free.
Cleaning
We take customer upholstery and make it professionally cleaned with effective cleaning solutions. We apply only eco-friendly cleaning enzymes to give you Couch Sanitization or Deodorisation Services.
Last Inspection
We do the last inspection that our cleaning is performed perfectly.
We complete our process within a few hours with professional cleaning skills. So, hurry up to book our professional services.
Why Choose Us For Upholstery Cleaning In Melbourne?
If you are finding the most reliable company who can give you all facilities related to Upholstery Cleaning, then we can help you in the best way. Here is a list of the facilities that we provide to our customers.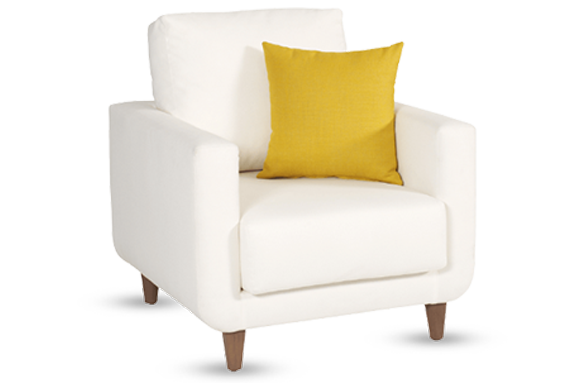 Same day couch cleaning services are also available.
We work 24/7 hours to serve our customers with our services of Upholstery Cleaning Melbourne.
Specialized in cleaning kinds of upholstery fabrics
Best Customer Service and friendly services are available
Emergency Upholstery Cleaning Services
Delicate Couch Cleaning Services are provided across Melbourne.
Lowest price guarantee.
We are also ready to give our services on weekends also.
Certified, skilled, experienced and licensed couch cleaners.
Use Eco-friendly & Safe Couch Cleaning products.
So, be quick and avail our services at any time. We will provide services with all facilities.
Avail Our Couch Cleaning Services In Areas Of VIC
You can also avail the benefits of our affordable and professional couch cleaning services in other areas of VIC.
Frequently Asked Questions
Q. Do you sanitize couches in commercial places?
Ans- We do all for providing Upholstery Cleaning Services to our customers. You can hire our professional Couch Cleaners anywhere in Melbourne whether it is a commercial or residential area. So, book our services now!
Q. How to clean fabric chairs at home?
Ans- Here is the best way to clean fabric chairs at home:
Vacuum first.
Make a cleaning solvent with a half a cup of hydrogen peroxide and 2 cups of water.
Fill this mixture into a spray bottle and shake well.
Spray it on the fabric chair carefully.
Leave the chair for 20 to 30 minutes with the solution.
Clean chair by using the wet cloth.
To get any professional advice, you can call our Professional Couch Cleaners at any time.
Q. Which type of cleaning solutions do you use?
Ans- We use only non-toxic cleaning solutions and eco-friendly cleaning chemicals to provide every kind of Upholstery Cleaning Services in Melbourne. Our cleaning solutions and all materials are safe for your kids and also safe for your couch fabric.